100% Guaranteed Results™
Non-Toxic Organic Sunscreen
You will Not Find A Better Zinc Oxide Sunscreen.
After Massaging It Leaves No White Residue

- This Organic Sunscreen Contains
No Silicone Oil (Dimethicone)
- No Titanium Dioxide (Canada considers it a carcinogen)
- No Nano or Fine Particles
UVA and UVB protection
SPF 20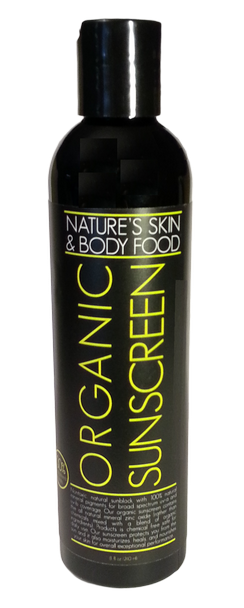 We Have Bottled the Best Nature Has to Offer for Skin Protection To Create the Most Natural SPF Protection Ever Developed



Nature's Skin And Body Food manufactures this non toxic, organic sunscreen with 100% natural mineral pigment, zinc oxide.

Our sunscreen does not contain a single chemical. Chemical and fragrance free, this sunscreen is safe for daily use for adults and children.

As you would expect from one of our products, this Sunscreen delivers on protection from the sun, and it also moisturizes, heals, and nourishes the skin at the same time.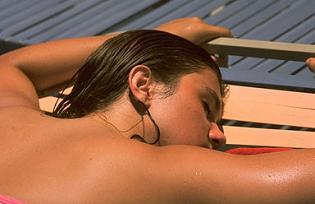 This light, non-greasy, organic formula is perfect for the face or body and is designed for all skin types. We use no nano size particles (including metals). Once on your skin this sunscreen becomes effective immediately and after massaged in does not leave a white residue.

Why Should You or Anyone You Care About be Using an Organic Sunscreen?
Because You Don't Want Your Sunscreen to be More Dangerous Than the Sun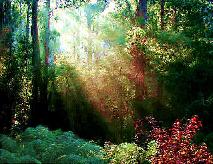 The chemical UV Filters used in sunscreens can damage the body in various ways. For example, rats treated for five days with the UV absorbing chemical 4MBC (commonly found in many sunscreens) had significantly raised levels of thyroid-stimulating hormones which disrupted natural thyroid production opening the door to far ranging detrimental health effects.

According to the Skin Cancer Foundation, skin cancer is the most common cancer in the United States and is responsible for 8,500 deaths annually... and the numbers are rising.

One theory for this increase is that harmful sunscreen chemicals are doing more harm than good.

Some of the harmful chemicals identified are allergy-creating PABA, benzophenone-3, homosalate, octyl-methoxycinnamate (OMC), and 4-methyl-benzylidene camphor (4-MBC).

While these chemicals protect skin from sun damage, experts have indicated that OMC (which is present in 90% of sunscreen brands) has been found to kill mouse cells even at low doses.

Recent studies on childhood illnesses linked these findings to a possible cause of ADHD, asthma, and allergies.

Some common, chemical sunscreen ingredients change the body's estrogen levels, or affect DNA replication, or cause cell damage through the creation of unwanted free radicals.

For all of these reasons, Nature's Skin And Body Food offers the most effective and safe organic sunscreen you can find. We also provide you with a sunscreen that hydrates, moisturizes, heals, and nourishes your skin.

Aloe is the most healing substance that nature has provided us for repairing skin that has been overly exposed to the sun.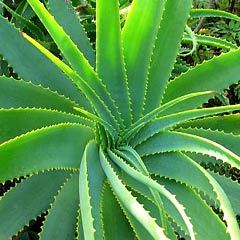 Which is why we add a large amount of organic, hand-filleted Aloe Vera to our sunscreen.


---

Full Ingredient List:
Active Sunscreen Ingredient: Zinc oxide 20%; Inactive Sunscreen Ingredients: Organic Hand Filleted Aloe Vera Juice, Fresh Spring Water, Organic Beeswax, Grapeseed Oil, Lecithin, Xanthan Gum, horseradish, Quaking aspen tree bark.


For Best Results:
Apply evenly to exposed areas on your face and body. Be sure to massage into the skin.

Many find it convenient to use a cosmetic sponge around the face area. This will also help you to conserve product.

Reapply throughout the day especially if frequently getting in and out of water.

Even using a sunscreen it is always wise to limit your maximum sun exposure in any given day.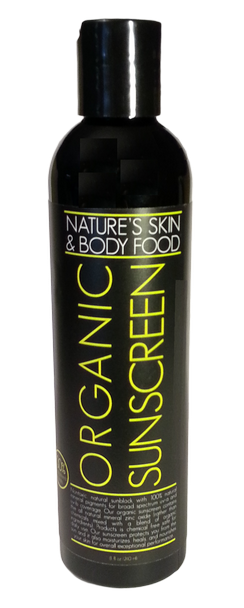 Special Retail Price $29.00
8oz Bottle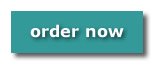 Add this Organic Face Cream to repair delicate facial
skin from too much sun exposure 
Use this Organic Body Lotion with generous amounts of Aloe - great for over sun exposure therapy on any part of the body 
Use our moisturizing Luxury Clay Soap With Your Organic Sunscreen 
For maximum detox of the skin add our Clay Mask to your skincare regimen