ProGrow Shampoo(tm)   
Intense Hair Loss Treatment For Men And Women


Ketoconavole 1%
Plus Natural DHT Blockers

Enhanced Hair Growth With Adenosine Enriched Fresh Melon Broth.

Scalp Penetrating Vegan Protein Peptides
And Essential Fatty Acids
For Stronger Silky Soft Hair.

Anti Dandruff
Moisturizing
Organic Ingredients-100% Naturally Preserved
Free From Parabens And Sulphates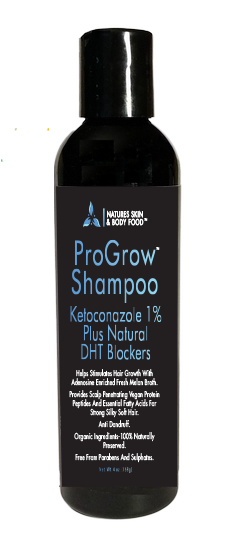 4 oz Bottle

Special Price

$19.95


8 oz Bottle

Special Priice

$32.95

---
The Hormone Dihydrotestosterone DHT is The Main Cause Of Hair Loss In Men And Women. 
Too much (DHT) Inhibits The Hair Follicle From Absorbing Nutrients And Producing Long Healthy Hair.

Men Produce More Of This Hormone-Its What Makes Men Grow Beards And Puts Hair On Their Chest. Without it Men Just Wouldn't Be Men.

Women Produce Much Smaller Amounts Without Any Problems Until Estrogen Levels Drop.  Estrogen Protects The Hair Follicle From DHT. Without That Protection Their Hair Can Become Thin, Limp And Even Balding In Some Cases.

We Combined The Best Natural DHT Inhibitors With Ketoconavole Which Science Proves To Be The Most Powerful Topical DHT Inhibitor Known.

Adenosine In A Study Proved To Be Slightly More Effective At Growing Hair Than Minoxidill And The Best Food Source Of Adenosine Is Fresh Melons.

Which Is Why We Created And Added An Adenosine Rich Fresh Melon Ferment To The Shampoo.
Lack Of Protein Is The Main Cause Of Limp-Weak Hair That Easily Breaks.
Our Tradesecret Extraction Process Allows Us To Dissolve Vegan Food Proteins In Oil Which Penetrate The Scalp And Hair Improving The Strength And Shine.



Very Long Chain Essential Fatty Acids Play A Significant Role With Thinning Hair And Growing Long Healthy Hair. The Ones That Have The Most Powerful Effect Cannot Be Bought With A Commercial Oil Like Flaxseed, Borage Oil And Others.

So We Extract Our Own Unique Blend Using A Tradesecret Mix Of Rare Italian Heirloom Vegetable Seeds That Are Added To The Shampoo.

Chemical Lathering Agents Added To Shampoos Are Very Disrupting To The Natural Balance Of The Scalp And Hair.

Its Why We Make Our Own Saponifed Oils From Organic Coconut And Organic Extra Virgin Olive Oil That We Liquify And Then Add To The Shampoo As Gentle Yet Powerful Lathering Agents.

Anti Oxidants Play A Significant Role In The Health Of Your Hair And Scalp.

We Extract Powerful Antioxidants From Tea Leaves Aged 15 Years And Other Food Sources And Add Them To The Shampoo.

Certain Herbs Have A Pro Growth Effect On Hair.
Which Is Why We Extract And Add Our Own Proprietary Hair Growth Extract (HGE)

Adequate Levels Of Vitamins And Minerals Are Important For Strong Healthy Hair And Is Why We Include A Food Extraction Of Vitamins And Minerals In The Shampoo.

Adding This Shampoo To Your Hair Care Routine Improves Hair Loss, Thinning Hair, Dandruff And Growing Longer Healthier Hair.

Improve Your Hair Now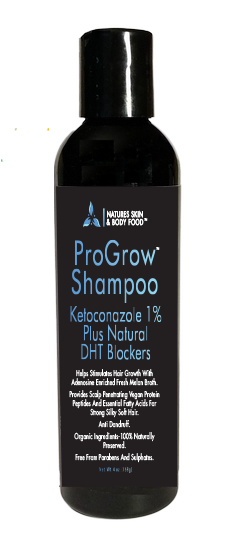 4 oz Bottle

Special Price

$19.95


8 oz Bottle

Special Price

$32.95

---
Active Ingredient:
Ketoconazole 1%

 Inactive Ingredients:
Saponified Oils (Organic Extra Virgin Olive Oil, Organic Coconut Oil), Spring Water, Organic Aloe Vera, Essential Fatty Acids, Vegan Proteins, Saw Palmetto, Sunflower, Oat Beta Glucan, Rutaceae, Pilocarpus, Grapeseed Extract, Safflower Extract, Aged Polyphenol Tea, Fermented Adenosine Melon Broth (Watermelon, Cataloupe, Honeydew), Fresh Organic Apple Juice, JoJoba Oil, Lecithin, Peppermint Leaf, Grapefruit Extract, Lactobacillus Ferment (Preservative), Zinc Sulphate (Foood Source Vitamins A,  B6, B12, C, D, E And, Thiamin, Riboflavin, Folate, Niacin, Pantothenic Acid, Choline, Betaine), (Food Source Minerals Calcium, Iron, Magnesium, Copper, Phosphorus, Potassium, Sodium, Manganese, Selenium), Phytosterols


Recommended Use Is 3 To 5 Times Per Week. Safe For Color Treated Hair, Oily, Dry Or Normal Scalp.

Instructions: Wet Hair And Pour Shampoo In Your Palm And Massage Into Scalp And Immediately Rinse. Repeat Until You Get A Thick Lather. Then Let Sit On Scalp 3 to 5 Minutes And Rinse. 

 Do Not Use If Pregnant Or Nursing. Not For Children Under The Age Of 12, Do Not Get In Eyes, If So Immediately Rinse With Water. If Irritation Occurs Discontinue Use And Seek Medical Advice.