Instructions For Use Of Nature's Transdermal Face Food Instructions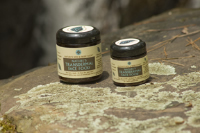 Product Instructions: Our amazing ageless beauty mask is truly a miracle gift from nature to you: a firming clay-herbal mask that provides you with a new generation of skin treatment that will give you that younger, blemish-free skin you desire. This mask contains more ingredients than any other skin product in the world, all without adding any synthetic chemicals or preservatives. It has two goals - facial detoxification and cellular nourishment. The immediate result will be cleaner, clearer, more lifted/firm facial skin with diminished wrinkles and practically no fine lines. Also if you have problem skin like acne, rosacea, eczema or psoriasis you will notice an immediate improvement. The use of this mask is cumulative, which means the longer you use it the better your skin will become. This mask is unique in the skincare world. There has never been a product developed that is more rejuvenating for the skin than Nature's Transdermal Face Food.
Instructions: Guidelines for best results. Apply on a thoroughly cleansed face as follows: 1) Using your fingers or an applicator brush spread a layer of Nature's Transdermal Face Food over the entire face, avoiding the eye area. 2) Leave the mask on for 5 to 20 minutes 3) Remove by washing with warm water either with a wash cloth or in the shower or bath. 4) Towel dry and then if needed apply added moisturizer. The mask will exfoliate, nourish, and moisturize.
Note: The Mask will remain active on your face for about 12 hours after it has been removed. It is recommended to have an interval of at least 24 hours between treatments. You will notice an increase in blood flow to the skin which is normal. The nutrition from this mask will also benefit your overall body. An increase in energy and calmness is a normal effect after applying your mask.
Anti-Aging requires removing the dead skin cells to assist the emergence of new skin. As you keep using the mask your results will become more pronounced.
Guidelines for recommended Use: Daily or every other day applications will produce the best results, however even limited use such as once or twice a week will produce solid results. As with all masks, avoid getting product into the eyes. If you do so rinse thoroughly with water. If your skin appears or feels irritated during use, rinse the mask off with cool water and discontinue use. Keep away from heat.
Get Additional Instructions For Better Looking Skin